Anaphylaxis translations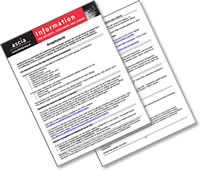 Anaphylaxis is a potentially life threatening, severe allergic reaction and should always be treated as a medical emergency. Anaphylaxis occurs after exposure to an allergen (usually to foods, insects or medicines), to which a person is allergic. Not all people with allergies are at risk of anaphylaxis.
Please see below for translations on the ASCIA website:
www.allergy.org.au/patients/about-allergy/anaphylaxis
These translations were funded by an educational grant from the Sydney Children's Hospitals Network (SCHN).
Arabic


Arabic_ASCIA_PCC_Anaphylaxis_2015133.44 KB
Chinese


Chinese_Trad_ASCIA_PCC_Anaphylaxis_2015164.06 KB
Chinese Simplified


Chinese_Simplified_ASCIA_PCC_Anaphylaxis_2018623.77 KB
Dinka (South Sudan)


DIN_ASCIA_PCC_Anaphylaxis_2015129.01 KB
French


FRE_ASCIA_PCC_Anaphylaxis_201573.76 KB
German


German_ASCIA_PCC_Anaphylaxis_2018144.18 KB
Greek


Greek_ASCIA_PCC_Anaphylaxis_2015126.67 KB
Hindi


Hindi_ASCIA_PCC_Anaphylaxis_2015144.55 KB
Indonesian


IND_ASCIA_PCC_Anaphylaxis_201575.05 KB
Italian


Italian_ASCIA_PCC_Anaphylaxis_201574.27 KB
Japanese


Japanese_ASCIA_PCC_Anaphylaxis_2015217.87 KB
Korean


Korean_ASCIA_PCC_Anaphylaxis_2018477.86 KB
Karen


Karen_ASCIA_PCC_Anaphylaxis_2018129.91 KB
Khmer


Khmer_ASCIA_PCC_Anaphylaxis_2018133.96 KB
Lao


Lao_ASCIA_PCC_Anaphylaxis_2018132.08 KB
Macedonian


Macedonian_ASCIA_PCC_Anaphylaxis_2015122.51 KB
Persian/Dari


PER_ASCIA_PCC_Anaphylaxis_2015127.67 KB
Spanish


Spanish_ASCIA_PCC_Anaphylaxis_201588.76 KB
Tagalog (Philippines)


TAG_ASCIA_PCC_Anaphylaxis_201571.7 KB
Thai


Thai_ASCIA_PCC_Anaphylaxis_2018143.29 KB
Turkish


Turkish_ASCIA_PCC_Anaphylaxis_2015123.17 KB
Vietnamese


Vietnamese_ASCIA_PCC_Anaphylaxis_2015133.5 KB
Webpage updated July 2019