Initiatives and Priorities 2020 to 2021
To achieve its mission, ASCIA undertakes a wide range of initiatives that are prioritised as follows: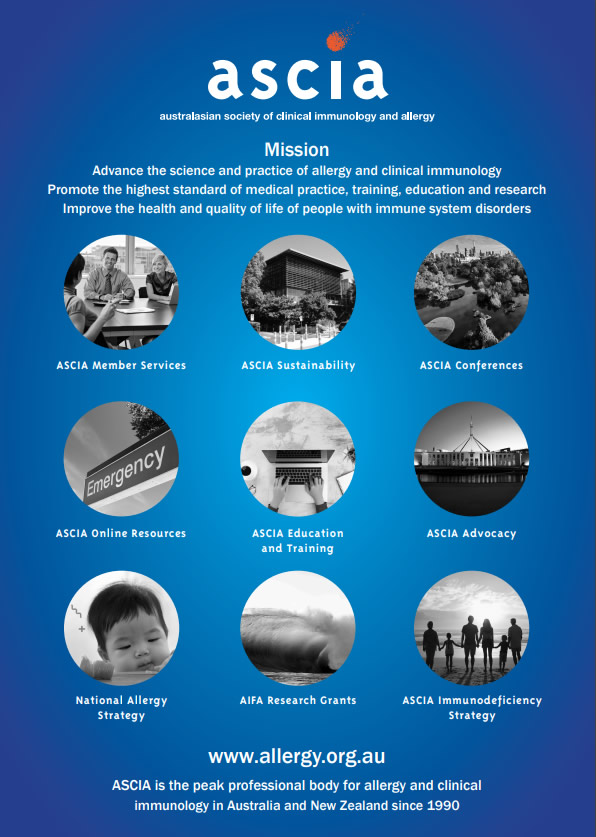 ASCIA Mission and Priorities737.85 KB
1. ASCIA Member Services and Benefits
4. ASCIA Online Resources, Education and Training
ASCIA has been working continuously in 2019-2020 to update and develop more online resources, education and training than in previous years. This has resulted in more than:
20 new ASCIA resources.
40 updated ASCIA resources (including 10 e-training courses).
Due to many challenges in 2020 we believe that this work is now more important than ever, to support ASCIA members, their patients/carers, other health professionals and the community by providing accessible, consistent and evidence based information.
For more details go to www.allergy.org.au/about-ascia/education-projects
5. Advocacy on Behalf of ASCIA Members
In 2020 ASCIA continues to advocate on behalf of ASCIA members to government and other organisations by lodging letters, submissions and reports, and working in collaborations.
ASCIA's top three policy and advocacy related issues in 2020 are as follows:
1. Education and Training - Support is required for accessible, consistent and evidence based allergy, anaphylaxis and primary immunodeficiency educational and training resources for health professionals, patients, carers and the community.
2. Access to Care - Improved access to timely, equitable and quality specialist and multidisciplinary care for patients with allergies or primary immunodeficiencies is needed, to improve access to funded treatments and diagnostic tests. This includes newborn screening for early diagnosis of severe primary immunodeficiencies throughout Australia (this is already available in New Zealand).
3. Collaborations and Research – ASCIA has recently advocated for an Allergy and Immunology Research Mission to be added to the initiatives in the Medical Research Future Fund (MRFF) consultation, to inform the third Australian Medical Research and Innovation Priorities 2020-2022. This request has been made for the following reasons:
There are currently no cures for allergies and anaphylaxis, which affect around one in five Australians and New Zealanders. This high prevalence and lack of a cure makes allergies and anaphylaxis major public health issues. Significant health and economic gains can therefore be made by investing in more research to improve prevention, diagnosis, treatment and management of allergies and anaphylaxis.
Primary Immunodeficiencies (PIDs) are relatively rare and complex diseases. There is an urgent need to measure the prevalence, diagnosis and outcomes of patients with PID in Australia and New Zealand using genomic testing for genetic diagnoses, alongside conventional diagnostics, to enable the delivery of appropriate care and to estimate resource utilisation. The application of genomic technologies is changing this field and the benefits of this diagnostic advances will only be achieved in clinical and research centres with expertise in PID and translational genomics. It is also important that we understand more about the natural history and prognosis of PIDs, which requires support for registries to track the clinical course of PID, and collaborations between clinical immunology specialists and nurses with other health professionals and research collaborators.
For details of ASCIA submissions and collaborations go to:
6. National Allergy Strategy