Initiatives and Priorities 2022
ASCIA's purpose is to advance the science and practice of allergy and clinical immunology.
This is achieved by promoting the highest standard of medical practice, training, education and research, to improve the quality of life and health of people with immune system disorders. These include allergies, immunodeficiencies and other immune diseases.
To achieve its Purpose, ASCIA undertakes a wide range of initiatives that are prioritised as follows: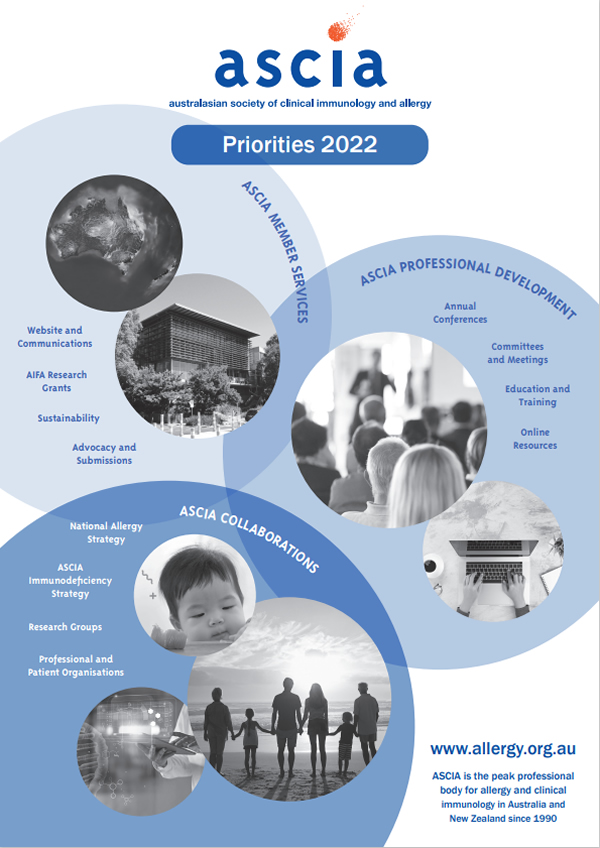 ASCIA Priorities 2022829.4 KB
1. ASCIA Member Services and Benefits
4. Professional Development - ASCIA Annual Conferences
Since 1990, the ASCIA Annual Conference has provided an international standard of continuing professional development (CPD) and is a highlight of the year for health professionals working in allergy, clinical immunology and immunopathology.
The ASCIA 2021 Conference was held as a highly successful virtual event from 1-3 September. To read more go to www.allergy.org.au/conferences/ascia-annual-conference
The ASCIA 2022 Conference is beign held as a hybrid event from 30 August to 2 September. To read more go to https://ascia2022.com/
5. Professional Development - ASCIA Online Resources, Education and Training
ASCIA continuously updates and develop world leading online resources, education and training that is accessible, consistent and evidence-based. For details go to www.allergy.org.au/about-ascia/education-projects
6. Collaborations - National Allergy Strategy