Initiatives and Priorities 2020 to 2021
To achieve its mission, ASCIA undertakes a wide range of initiatives that are prioritised as follows: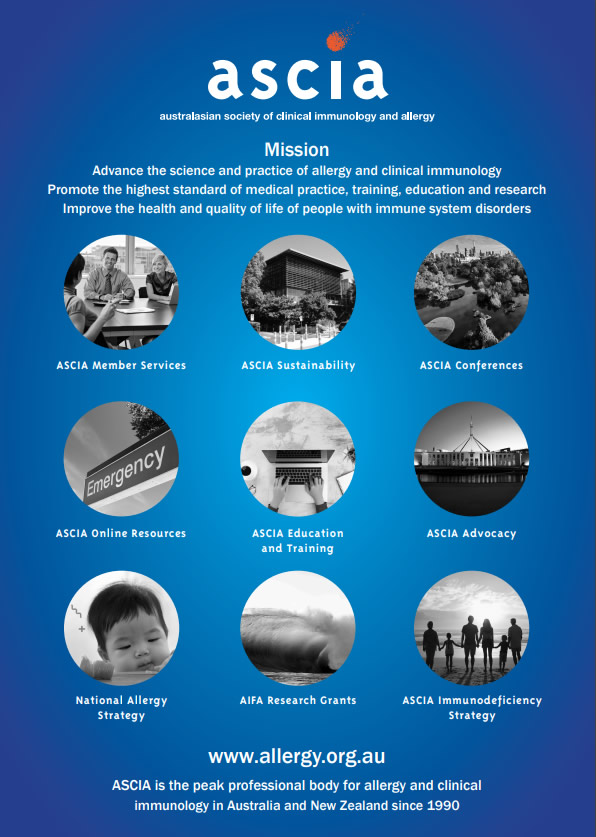 ASCIA Mission and Priorities737.85 KB
1. ASCIA Member Services and Benefits
4. ASCIA Online Resources, Education and Training
ASCIA has been working continuously in 2019-2020 to update and develop more online resources, education and training than in previous years. This has resulted in more than:
20 new ASCIA resources.
40 updated ASCIA resources (including 10 e-training courses).
Due to many challenges in 2020 we believe that this work is now more important than ever, to support ASCIA members, their patients/carers, other health professionals and the community by providing accessible, consistent and evidence based information.
For more details go to www.allergy.org.au/about-ascia/education-projects
5. Advocacy on Behalf of ASCIA Members
In 2020 ASCIA continues to advocate on behalf of ASCIA members to government and other organisations by lodging letters, submissions and reports, and working in collaborations,
For details go to:
6. National Allergy Strategy