10 January 2020
: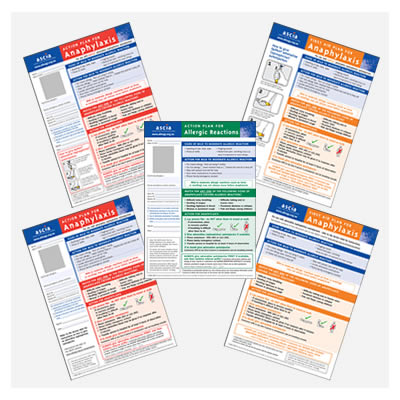 ASCIA Action Plans for Anaphylaxis (RED) and ASCIA Action Plan for Allergic Reactions (GREEN) have been updated in January 2020 and are available at www.allergy.org.au/hp/anaphylaxis/ascia-action-plan-for-anaphylaxis
The main update to ASCIA Action Plans was to change the weight range for adrenaline autoinjectors (150 mcg) from 10-20kg to 7.5-20kg, to be consistent with ASCIA Guidelines and consensus expert opinion. For more information about the changes to ASCIA Action Plans go to www.allergy.org.au/hp/anaphylaxis/action-plans-for-allergic-reactions-faq
Whilst the 2020 ASCIA Action Plans are the latest versions, the 2018 and 2017 versions of ASCIA Action Plans are still valid for use throughout 2020 and 2021, or until the due date for review stated on the plan. The 2020 versions of ASCIA Action Plans will be included in updated ASCIA anaphylaxis e-training courses around mid-January 2020.
ASCIA First Aid Plans for Anaphylaxis (ORANGE) have replaced the general versions of ASCIA Action Plans for Anaphylaxis (ORANGE) and are also available at www.allergy.org.au/hp/anaphylaxis/ascia-action-plan-for-anaphylaxis and translated versions are available at www.allergy.org.au/hp/anaphylaxis#ta5