Information for Schools and Children's Education/Care
Schools and Children's Education/Care Survey June 2023
ASCIA invites all people studying and/or working in schools and children's education/care (CEC) services to participate in this survey. Share your experience about anaphylaxis training to help improve training for staff and students. Complete this survey at https://ascia.qualtrics.com/jfe/form/SV_e5TVCMU4uUX7qwC for your chance to win one of TEN $100 gift vouchers.
Survey closes 30 June 2023.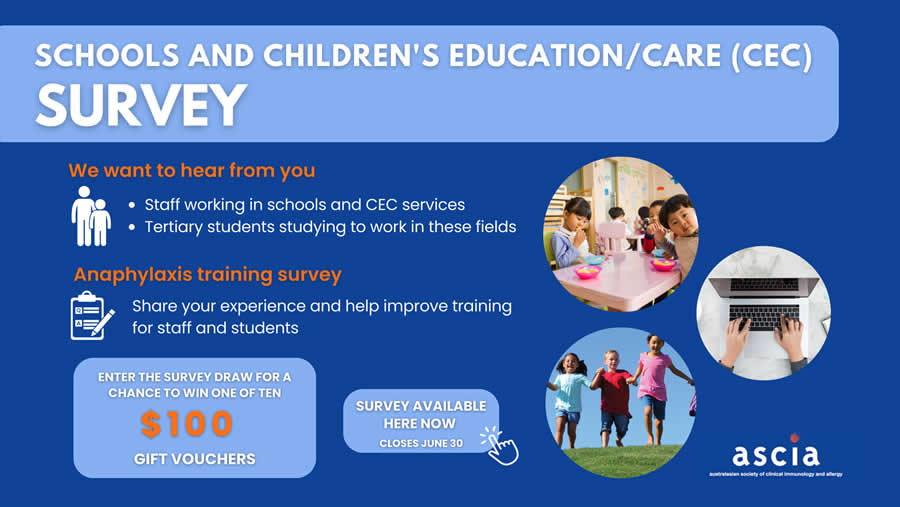 ASCIA is working on a National Allergy Council project to find out how anaphylaxis and allergy training is being provided in undergraduate courses for staff who work in schools and CEC services. Findings from this project will be used to make recommendations about how anaphylaxis and allergy training should be included in courses.
ASCIA Anaphylaxis e-training for Schools and Children's Education/Care
www.allergy.org.au/patients/anaphylaxis-e-training-schools-and-childcare
Allergy Aware
https://www.allergyaware.org.au/
The Allergy Aware website is an anaphylaxis and allergy resource hub for schools and children's education/care (CEC) services which includes best practice guidelines and risk minimisation strategies for prevention of severe allergic reactions (anaphylaxis) in schools and CEC services:
https://www.allergyaware.org.au/schools/best-practice-guidelines-schools
https://www.allergyaware.org.au/schools/anaphylaxis-risk-minimisation-strategies
https://www.allergyaware.org.au/childrens-education-and-care/best-practice-guidelines-cec
https://www.allergyaware.org.au/childrens-education-and-care/anaphylaxis-risk-minimisation-strategies
Adrenaline (Epinephrine) Injector Training Devices
ASCIA anaphylaxis e-training courses should always be completed in conjunction with practice using adrenaline (epinephrine) injector training devices (EpiPen® and Anapen®), which do not have a needle and do not contain adrenaline. To order trainer devices contact:
EpiPen - Viatris AU - phone 1800 931 625 or Viatris NZ - phone 0800 168 169
Anapen - Allergy Concepts - email

This email address is being protected from spambots. You need JavaScript enabled to view it.

Pharmacies
Patient support organisations - Allergy & Anaphylaxis Australia www.allergyfacts.org.au
and Allergy New Zealand www.allergy.org.nz
The supervisor or other adult witness (18 years or older) who signs the certificate to confirm practice with the adrenaline injector trainer devices does not require any special qualifications (except in Victorian state schools - see https://www.allergy.org.au/patients/anaphylaxis-e-training-schools-and-childcare#ad3). They can refer to instructions on ASCIA Action Plans or videos on the ASCIA website www.allergy.org.au/anaphylaxis
ASCIA Anaphylaxis Resources
ASCIA anaphylaxis resources (including action plans, e-training courses and guidelines) are used throughout Australasian schools and children's education/care services. These resources are available at www.allergy.org.au/anaphylaxis
National Allergy Strategy 250K Youth Project Resources
https://nationalallergystrategy.org.au/resources/250k-youth-project

Allergy Aware presentation primary school 20211.20 MB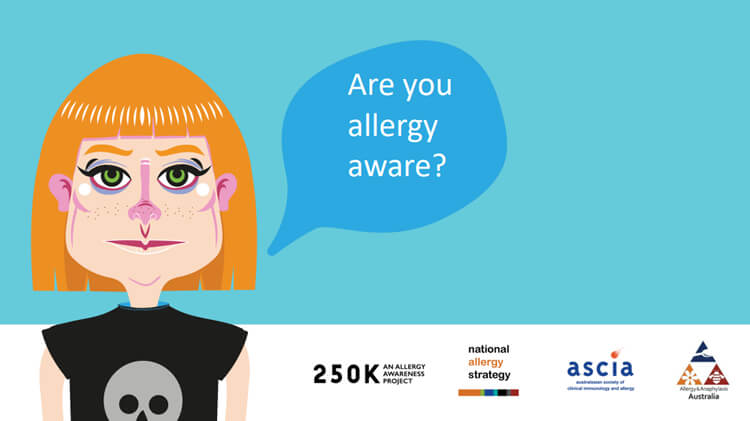 Allergy Aware presentation secondary school 20211.15 MB
Supply Update - Adrenaline (Epinephrine) Injectors
For updated information go to www.allergy.org.au/members/adrenaline-autoinjector-availability
Patient/Carer Support Organisations
www.allergy.org.au/patients/patient-support-information
Webpage updated May 2023