ASCIA anaphylaxis e-training first aid (community)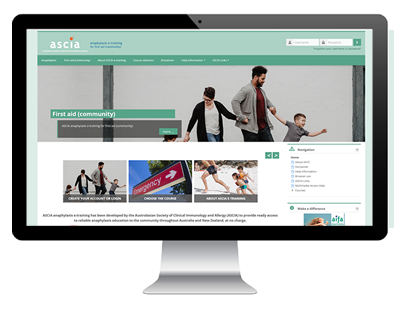 ASCIA anaphylaxis e-training for first aid (community) provides accessible, consistent and evidence based anaphylaxis education throughout Australia and New Zealand.
The course has been developed for the community, including people with allergies, parents/carers, friends, workplaces, students and club members.
The course is available free of charge at https://anaphylaxis.ascia.org.au
Development of the course included an extensive review process with ASCIA members throughout Australasia, and content is regularly reviewed and updated.
The course modules can be accessed in any order, however when completing the entire course, it is recommended that the modules are completed in the order presented. Successful completion of the final module allows you to print a certificate containing your name, the date and your pass mark.
Content updated August 2020