Anaphylaxis Resources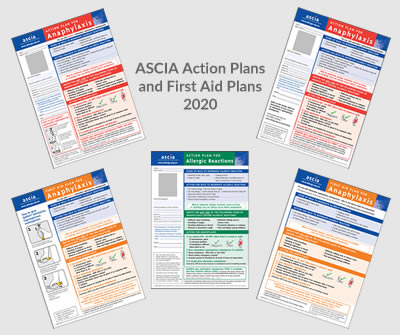 This webpage includes links to:
Anaphylaxis is a potentially life threatening severe allergic reaction, that requires immediate treatment with adrenaline (epinephrine), which can save lives. Anaphylaxis should always be treated as a medical emergency. Call an ambulance (000 in Australia or 111 in New Zealand), immediately after giving an adrenaline autoinjector.
Current ASCIA Action Plans are the 2020 versions, however, the 2018 versions are still valid for use throughout 2020, or until the review date on the plan. ASCIA Action Plans do not expire, and therefore the plan is still valid beyond the date of review, which is a guide for patients to see their doctor.
Action Plans, Checklists
Adrenaline autoinjector information
Anaphylaxis Guidelines
Anaphylaxis Guidelines - Schools/Childcare
Anaphylaxis Guidelines - Health Professionals
ASCIA anaphylaxis e-training courses
Anaphylaxis e-training - Schools/Early Childhood Education/Care Updated January 2020
Anaphylaxis e-training - Health Professionals Updated February 2020
Anaphylaxis e-training - Community Updated January 2020
Translations of anaphylaxis information
Anaphylaxis patient information - English
Anaphylaxis patient information - other languages
Anaphylaxis patient information - Maori, Samoan, Tongan
First Aid for Anaphylaxis - English
First Aid for Anaphylaxis - other languages
First Aid for Anaphylaxis - Maori, Samoan, Tongan
Fact sheet for parents - English and other languages
Fact sheet for parents - Maori, Samoan, Tongan
How to give EpiPen - other languages
How to give EpiPen - Maori, Samoan, Tongan
Translations of chef cards are available from the Allergy & Anaphylaxis Australia website
Translations of asthma action plans are available from the National Asthma Council website
General allergy information
Fast Facts about anaphylaxis can be found here:
Information for patients, consumer and carers
Dietary avoidance for food allergy information sheets
Information for schools and childcare
Information for health professionals
Content updated October 2020