ASCIA Reports and Submissions
ASCIA Submissions 2020-2022 | ASCIA Submissions 2019 | ASCIA Annual Highlights, Annual Reports, AGM Minutes, Financial Reports | ASCIA Scope of Practice documents | National Allergy Strategy | ASCIA/NPS Choosing Wisely Australia and RACP Evolve recommendations | Allergy in Australia 2014 | Allergy and Immune Diseases in Australia (AIDA) Report 2013 | ASCIA Education Resources Report 2013 | Economic Impact of Allergies Report 2007
ASCIA continues to advocate on behalf of ASCIA members to government and other organisations by lodging submissions which are listed below.
ASCIA Submissions 2022
ASCIA submitted responses to a survey on the Consultation Draft - National Medicines Policy. Lodged 2 March 2022.
Letter from ASCIA in support of the application to the PBAC for PBS listing of Dupixent® (dupilumab) for treatment of severe atopic dermatitis (eczema) in children aged 6-11 years. Lodged 13 January 2022.


ASCIA letter PBAC Dupilumab 2022 01 13

52.73 KB
ASCIA Submissions 2021
ASCIA response to National Blood Authority (NBA) call for public comments on the draft Acute Transfusion Reaction Guidelines. Lodged online 2 July 2021.
ASCIA Submissions 2020
ASCIA Immunodeficiency Strategy for Australia and New Zealand. Completed November 2020 and lodged as an attached to the ASCIA submission to the Parliamentary Inquiry 3 November 2020.
ASCIA submissions to Medical Services Advisory Committee (MSAC) Immunoglobulin Review Consultations 1591 and 1592. Lodged 10 September 2020.
Joint letter from ASCIA, National Allergy Strategy, A&AA and CFAR to the Minister for Health (Hon Greg Hunt MP), in response to Recommendation 1 in the Report on the Parliamentay Inquiry into Allergies and Anaphylaxis. Submitted 30 June 2020.

Joint letter to Minister Hunt 30-06-20

100.27 KB
ASCIA Submissions 2019
ASCIA Annual Highlights, Annual Reports, AGM Minutes, Financial Reports
Summaries of annual highlights www.allergy.org.au/about-ascia/highlights
ASCIA Annual General Meeting (AGM) Minutes www.allergy.org.au/members/ascia-agm
ASCIA Annual Reports www.allergy.org.au/members/ascia-annual-reports
ASCIA Financial Reports are available on the Australian Charities and Not-for-profits Commission (ACNC) website https://www.acnc.gov.au/charity/e79f36de081f49213f96361b173c5d91 (ASCIA is a Company limited by guarantee (ACN 608 798 241; ABN 45 615 521 452) and is registered with the ACNC.
ASCIA Scope of Practice documents
Scope of Practice - Allergy Skin Testing in Australia 2018
ASCIA developed this Scope of Practice in response to the Medicare Benefits Schedule (MBS) item number changes implemented by the MBS Review Taskforce, effective 1 November 2018. Whilst these changes were not initiated by ASCIA, the previously proposed item numbers were significantly modified in response to a submission made by ASCIA in July 2017, to ensure patients with complex allergic disease are not disadvantaged.

ASCIA Scope of Practice - Allergy Skin Testing in Australia 2018171.23 KB
Scope of Practice - Specialist Physicians in Immunology and Allergy in Australia 2014
The aim of this Scope of Practice is to outline the range of practice of clinical immunology/allergy specialists in Australia and ensure that patients with allergic and other immune diseases receive the highest standard of care, in line with best clinical practice.

ASCIA Scope of Practice Australia July 2014208.16 KB
National Allergy Strategy
In 2021 ASCIA continues to contribute to, and promote the following National Allergy Strategy projects:
ASCIA Recommendations - NPS Choosing Wisely Australia and RACP Evolve
ASCIA was the first Specialty Society affiliated with the Royal Australasian College of Physicians (RACP) to be involved in Choosing Wisely Australia, a health profession led initiative faciliated by National Prescribing Service (PBS) MedicineWise and the RACP Evolve program. The ASCIA list of five things that clinicians and consumers should question is available at:
www.choosingwisely.org.au/recommendations/ascia
https://evolve.edu.au/recommendations/ASCIA
For further information about Choosing Wisely Australia go to www.choosingwisely.org.au
For further information about the RACP Evolve program go to https://evolve.edu.au/about
Allergy in Australia 2014

Prior to ASCIA developing a National Allergy Strategy for Australia, the following report was developed in 2014.

Allergy in Australia 2014: A submission for allergic diseases to be recognised as a National Health Priority Area 606.54 KB
Allergy and Immune Diseases in Australia (AIDA) Report 2013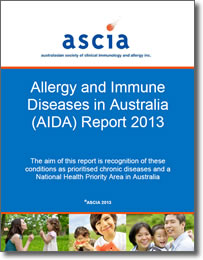 The AIDA report on allergy and other immune diseases (immunodeficiency and autoimmune diseases) was developed in 2013.

Allergy and Immune Diseases in Australia (AIDA) Report 2013720.33 KB
ASCIA Education Resources Report 2013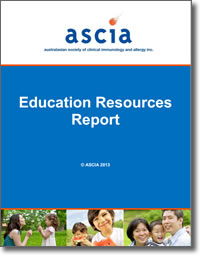 ASCIA has been developing web based education resources since 1999. In 2013, the ASCIA Education Resouces Report was developed to outline the large range of web based educational resources that are all available at no charge on the ASCIA website.

ASCIA_Education_Report_July_2013483.57 KB
Economic Impact of Allergies Report 2007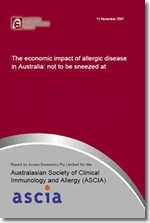 The cost of allergies to the Australian economy is estimated to be $7.8 billion, with lost productivity and health system expenditure the major contributing factors. Furthermore, most Australians with allergies face a wait many months to see a specialist, if they can access care at all. These are among key findings in the following report 'Economic Impact of Allergies' by Access Economics that was released by ASCIA in November 2007.

Economic Impact of Allergies Report - 20071.65 MB
Content updated April 2022