The Australasian Society for Clinical Immunology and Allergy (ASCIA) develops a range of reports and submissions relevant to allergy and other immune diseases.
ASCIA Highlights 2015 and 2014
Summaries of highlights and achievements from 2015 and 2014 are available at: www.allergy.org.au/about-ascia/highlights
| | |
| --- | --- |
| | 2014 ASCIA Highlights |
National Allergy Strategy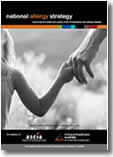 ASCIA and Allergy & Anaphylaxis Australia (A&AA), as the leading medical and patient organisations for allergy in Australia developed the first National Allergy Strategy for Australia, in collaboration with other stakeholder organisations, which was launched in August 2015.
To access the National Allergy Strategy go to www.nationalallergystrategy.org.au
ASCIA and Choosing Wisely Australia
ASCIA was the 1st Specialty Society affiliated with the Royal Australasian College of Physicians (RACP) to be involved in Choosing Wisely Australia, a health profession led initiative faciliated by National Prescribing Service (PBS) MedicineWise. The ASCIA list of 5 things that clinicians and consumers should question is available at:
www.choosingwisely.org.au/recommendations/ascia

ASCIA Choosing Wisely Australia375.33 KB
For further information about Choosing Wisely Australia go to www.choosingwisely.org.au
ASCIA Scope of Practice: Specialist Physicians in Immunology and Allergy in Australia
The aim of this Scope of Practice is to outline the range of practice of specialist physicians in Immunology and Allergy in Australia and ensure that patients with allergic and other immune diseases receive the highest standard of care, in line with best clinical practice.

ASCIA Scope of Practice Australia July 2014208.16 KB
See the ASCIA Scope of Practice Australia
Allergy in Australia 2014

Prior to ASCIA developing a National Allergy Strategy for Australia, in conjunction with the national patient support organisation, Allergy & Anaphylaxis Australia (A&AA), the following report was developed in 2014:

Allergy in Australia 2014: A submission for allergic diseases to be recognised as a National Health Priority Area
Allergy and Immune Diseases in Australia (AIDA) Report 2013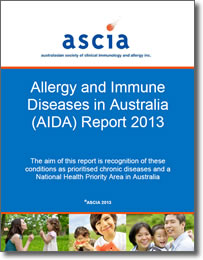 The following report on allergy and other immune diseases (immunodeficiency and autoimmune diseases) was developed in 2013:
Allergy and Immune Diseases in Australia (AIDA) Report - 2013
ASCIA Education Resources Report 2013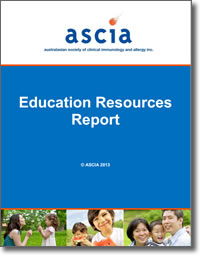 ASCIA has been developing web based education resources since 1999. In 2013, the following report was developed to outline the large range of web based educational resources that are all available at no charge on the ASCIA website:
ASCIA Education Resources - 2013
Economic Impact of Allergies Report 2007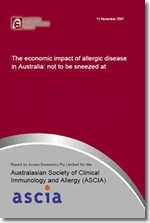 The cost of allergies to the Australian economy is estimated to be $7.8 billion, with lost productivity and health system expenditure the major contributing factors. Furthermore, most Australians with allergies face a wait many months to see a specialist, if they can access care at all. These are among key findings in the following report 'Economic Impact of Allergies' by Access Economics that was released by ASCIA in November 2007:
Economic Impact of Allergies Report - 2007
Content updated May 2016