ASCIA HAE Position Paper and Management Plan
The following ASCIA Hereditary Angioedema (HAE) documents have been updated in 2020 to be consistent with international guidelines and include new treatment options. These changes are explained in an
ASCIA Webinar about HAE
that was presented on 30 March 2020. An update to page 12 has been made in July 2020, in response to the new product registration in New Zealand for prophylaxis of HAE attacks.
Notice from Cipla regarding supply of icatibant

Cipla Icatibant Information109.55 KB
Notice from Takeda regarding delisting of Firazyr (icatibant) from PBS in Australia.

HCP_letter_Firazyr_PBS_Update_002726.08 KB
For information regarding supply of danazol in Australia please refer to
www.allergy.org.au/about-ascia/info-updates/product-supply-update-danazol
Updated ASCIA HAE Position Paper 2020
New ASCIA HAE Management Plan 2020 (with type in fields), which replaces the ASCIA HAE Action Plan.


ASCIA HAE Management Plan 2020129.80 KB

New ASCIA HAE Case Peer Review Form (with type in fields), which needs to be completed when requesting prophylaxis dose increases using a new treatment option - Berinert® SC.


ASCIA HAE Case Peer Review Form 202091.69 KB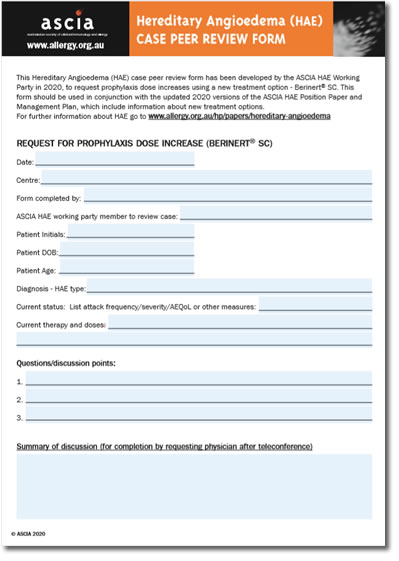 HAE Australasia is a support organisation for people with HAE and their carers in Australia and New Zealand. For more information visit www.haeaustralasia.org.au
For information about how ASCIA information for health professionals is developed go to: www.allergy.org.au/about-ascia/website-information
Content updated November 2020