ASCIA First Aid Plan for Anaphylaxis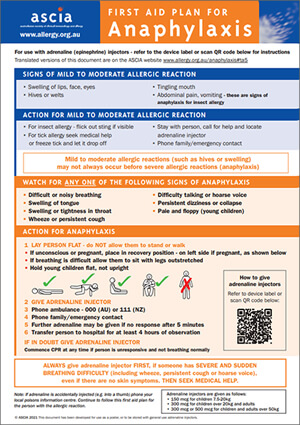 For use with adrenaline (epinephrine) injectors - refer to the device label for instructions. Translated versions of this document are on the ASCIA website www.allergy.org.au/anaphylaxis#ta5

ASCIA First Aid Anaphylaxis General with QR Code Orange 2021
SIGNS OF MILD TO MODERATE ALLERGIC REACTION
Swelling of face, lips and eyes
Hives or welts
Tingling mouth
Abdominal pain, vomiting - these are signs of anaphylaxis for insect allergy
ACTION FOR MILD TO MODERATE ALLERGIC REACTION
For insect allergy - flick out sting if visible
For tick allergy seek medical help or freeze tick and allow to drop off
Stay with person, call for help and locate adrenaline (epinephrine) injector
Phone family/emergency contact
Mild to moderate allergic reactions (such as hives or swelling) may not always
occur before severe allergic reactions (anaphylaxis)
WATCH FOR ANY ONE OF THE FOLLOWING SIGNS OF ANAPHYLAXIS
- Difficult or noisy breathing
- Swelling of tongue
- Swelling or tightness in throat
- Difficulty talking or hoarse voice
- Wheeze or persistent cough
- Persistent dizziness or collapse
- Pale and floppy (young children)
ACTION FOR ANAPHYLAXIS
1 LAY PERSON FLAT - d
o NOT allow them to stand or walk
• If unconscious or pregnant, place in recovery position - on left side if pregnant, as shown below
• If breathing is difficult allow them to sit with legs outstretched
• Hold young children flat, not upright If unconscious, place in recovery position

2 GIVE ADRENALINE INJECTOR
3 Phone ambulance - 000 (AU) or 111 (NZ)

4 Phone family/emergency contact

5 Further adrenaline may be given if no response after 5 minutes

6 Transfer person to hospital for at least 4 hours of observation
IF IN DOUBT GIVE ADRENALINE INJECTOR
Commence CPR at any time if person is unresponsive and not breathing normally

ALWAYS give adrenaline injector FIRST, if someone has SEVERE AND SUDDEN BREATHING DIFFICULTY (including wheeze, persistent cough or hoarse voice), even if there are no skin symptoms. THEN SEEK MEDICAL HELP.
Adrenaline injectors are given as follows:
• 150 mcg for children 7.5-20kg
• 300 mcg for children over 20kg and adults
• 300 mcg or 500 mcg for children and adults over 50kg
If adrenaline is accidentally injected (e.g. into a thumb) phone your local poisons information centre. Continue to follow this plan for the person with the allergic reaction.
© ASCIA 2021
This document has been developed for use as a poster, or to be stored with general use adrenaline injectors.