Fact Sheet for Parents - Anaphylaxis - in English and Other Languages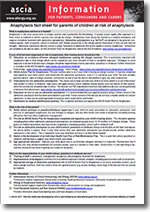 Anaphylaxis is the most severe form of allergic reaction and is potentially life threatening. It usually occurs rapidly after exposure to a food, insect or medicine to which a person may already be allergic. Anaphylaxis must always be treated as a medical emergency and requires immediate treatment with adrenaline.
This fact sheet contains the following sections:
What is anaphylaxis and how is it treated?
If your child has been diagnosed at risk of anaphylaxis, their treating doctor should provide
What is the role of the parent
What are the responsibilities of your child's school, preschool or childcare service
Further information
Download full fact sheets here

ASCIA anaphylaxis parent fact sheet 2018180.73 KB
Translations of this document are available below.
These translations were funded by an educational grant from the Sydney Children's Hospitals Network (SCHN).
Arabic


Arabic ASCIA Anaphylaxis Parent Fact Sheet127.73 KB
Chinese Simple


Chinese Sim ASCIA PCC Anaphylaxis Parent Fact Sheet156.87 KB
Chinese Traditional


Chinese Trad ASCIA PCC Anaphylaxis Parent Fact Sheet165.85 KB
Dinka (South Sudan)
French


French ASCIA Anaphylaxis Parent Fact Sheet ANZ69.64 KB
German


German ASCIA Anaphylaxis Parent Fact Sheet205.92 KB
Greek


Greek ASCIA PCC Anaphylaxis Parent FS106.68 KB
Hindi


Hindi ASCIA Anaphylaxis Parent FS ANZ126.96 KB
Indonesian


Indonesian ASCIA PCC Anaphylaxis Parent Fact Sheet71.83 KB
Italian
Japanese


Japanese ASCIA PCC Anaphylaxis Parent Fact Sheet183.21 KB
Karen


Karen ASCIA PCC Anaphylaxis Parent Fact Sheet325.53 KB
Khmer


Khmer ASCIA PCC Anaphylaxis Parent Fact Sheet129.28 KB
Korean


Korean ASCIA PCC Anaphylaxis Parent Fact Sheet291.21 KB
Lao


Lao ASCIA PCC Anaphylaxis Parent Fact Sheet132.50 KB
Macedonian


Macedonian ASCIA Anaphylaxis Parent Fact Sheet ANZ119.03 KB
Persian/Dari
ASCIA anaphylaxis fact sheet Persian Dari 2015
Spanish


Spanish ASCIA Anaphylaxis Parent FS ANZ68.31 KB
Tagalog (Philippines)


ASCIA anaphylaxis fact sheet Tagalog 201590.82 KB
Thai


Thai ASCIA PCC Anaphylaxis Parent Fact Sheet138.97 KB
Turkish


Turkish ASCIA Anaphylaxis Parent FS ANZ 2017 UPDATED127.71 KB
Vietnamese


Vietnamese ASCIA PCC Anaphylaxis Parent Fact Sheet136.22 KB
Content updated July 2019