Virtual Meetings about COVID-19 Vaccines
The following two online events are being hosted by the peak professional bodies for allergy and immunology in Australia, New Zealand and Asia and registration is free.
ASI-ASCIA COVID-19 Vaccine Safety Online Fireside Chat on Wednesday 31st March 2021, 6.30-7.30pm AEST with Dr Paul Turner, who leads the COVID-19 vaccine allergy surveillance unit in the UK and Prof Michaela Lucas, who is a clinician-scientist and ASCIA President. Register here
APAAACI COVID-19: Allergies and Vaccines, Understanding the Facts and Myths on Monday 12th April 2021, 7-8pm (GMT+8, Singapore Standard Time). Register here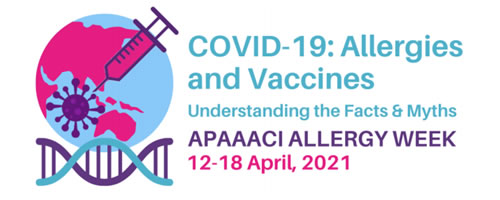 In the meantime information is available in the ASCIA ASCIA Allergy, Immunodeficiency, Autoimmunity and COVID-19 Vaccination FAQ www.allergy.org.au/patients/ascia-covid-19-vaccination-faq which includes the following key statements:
Vaccination is an important way to reduce the risk of developing infectious diseases which can easily spread. This includes COVID-19, which is caused by infection with the SARS-CoV-2 coronavirus. Immunity occurs after the vaccine stimulates a person's immune system to make antibodies (immunoglobulins) to help protect the body from future infections. This means that if a person is vaccinated, they will be less likely to get COVID-19. Even if a person does get infected, it is likely to be a milder illness.
Public health measures and restrictions that were implemented by the Australian and New Zealand governments since March 2020 have been successful in controlling the spread of COVID-19 in our countries. However, the COVID-19 pandemic has been a major cause of illness and deaths in other countries. This means that vaccination programs are required throughout the world, including Australia and New Zealand.
COVID-19 vaccines approved for use in Australia and New Zealand are not live-attenuated vaccines and are safe for people with immune system disorders, including allergy, immunodeficiency or autoimmune conditions.
Allergic reactions to COVID-19 vaccines are rare. However, if there is a high risk of an allergic reaction to one of the vaccines, it may be possible to have another vaccine, subject to availability and medical advice.