Laboratory Tests in the Diagnosis of Allergic Diseases
Laboratory investigations are a useful tool in the diagnosis and management of allergic diseases and can provide aids to diagnose and assess disease activity.
Allergic diseases are the result of allergic inflammation that occurs as a result of an interaction between the environment and the patient's immune system resulting in the release of histamine and other proinflammatory mediators.
Although the diagnosis of allergic disorders is most often made on clinical grounds, supported by the results of skin tests, the diagnostic laboratory plays two important roles in the diagnosis of allergic diseases:
Identification of allergens to which the patient has become sensitised in situations where skin testing is unavailable or unsuitable (i.e. serology for antigen-specific IgE - "RAST" tests). (Table 1)
Detection and quantitation of mediators of anaphylaxis released by mast cells (eg mast cell tryptase).
The diagnostic laboratory also measures indirect "markers" of allergic inflammation (total IgE, absolute eosinophil count). These are non-specific and may also be elevated in other disorders.
In-vitro tests for Allergen-specific IgE
Commonly referred to as "RAST" tests ("Radio-AllergoSorbent Test" after technology that has been superseded by enzyme and fluorescent-based assays), these tests detect allergen-specific IgE in the serum. Patient's serum is incubated with allergen or allergen mixtures bound to a solid material. Allergen-specific IgE is then detected using antibodies specific for human IgE that are labeled with either enzyme or a fluorescent compound (see Figure 1).
Should I do a blood test or a skin test?
Skin testing remains the "gold standard" for detection of allergen-specific IgE. This procedure requires experience for accurate interpretation and may rarely induce anaphylaxis.
It is therefore recommended that these be performed by appropriately trained medical practitioners with resuscitation facilities available. There are a number of situations in which RAST tests are preferred to skin tests (Table 1).
Interpretation of RAST tests
The results of RAST tests are reported semi-quantitatively as a score or as a category of reactivity to indicate either a negative result or low-, medium-, high- or very high degrees of sensitisation. Positive results indicate the presence of allergen-specific IgE in the peripheral blood (ie that the patient is "sensitised" to the allergen). In the presence of a suggestive history, a positive RAST test is evidence for clinically relevant sensitisation to the allergen tested.
However sensitisation alone does not indicate clinically significant sensitivity, e.g. older children can retain positive RAST tests to egg and are able to eat pavlova or scrambled eggs without symptoms.
Conversely, a negative result does not necessarily exclude clinically significant allergy (see table 2). Anaphylaxis (e.g. following administration of an antibiotic) can cause a transient drop in allergen-specific IgE sufficient to cause "false negative" results. In addition, patients can remain allergic to substances despite their serum IgE levels declining to undetectable levels with time following exposure (i.e. clinically relevant allergen-specific IgE can be present only on mast cells and be undetectable in the peripheral blood years following an insect sting). Allergens (especially food allergens) present in diagnostic kits are relatively labile and can degrade. RAST tests to allergen "mixes" used to screen for sensitisation to a group of allergens (e.g. grass mix or food mix) are relatively insensitive compared to RAST to the specific allergen and are less sensitive than skin testing. Therefore a negative result on RAST, in the presence of a strong history of an allergic response requires further investigation (e.g. skin testing +/- challenge under the supervision of an allergy specialist).
Detection of mast cell-derived mediators of anaphylaxis
The only mediator of allergic inflammation measured by routine diagnostic laboratories is mast cell tryptase, a product of mast cell granules. It is secreted during anaphylaxis, rising to a peak concentration at 1-2 hours and returning to baseline by 6 hours, making it a suitable marker of mast cell degranulation during anaphylaxis in situations where the diagnosis of anaphylaxis is not clear (eg hypotension + rash during anaesthesia).
In a clinical study (Schwartz LB NEJM 1987), mast cell tryptase was found to be elevated only in patients with anaphylaxis and systemic mastocytosis, and not in patients with sepsis, myocardial infarctions or other hospital controls.
Non-specific markers of allergic inflammation - eosinophil count and total serum IgE
Eosinophils and IgE are part of a system that evolved to defend vertebrates from parasitic infestation. Major improvements in community standards of hygiene and public health have reduced the prevalence of parasitic infections such that now allergic disorders are the most common causes of an elevated IgE and eosinophilia in Australian communities.
However, it is important to recognise that there are causes other than allergy of eosinophilia and an elevated IgE (tables 3 and 4). These conditions should be excluded when the history is not suggestive of allergy or when the degree of eosinophilia/elevationof IgE is out of proportion to the severity of the allergic disease. Conversely, significant allergic disease can occur in the absence of an elevated IgE or eosinophilia.
Table 1 - Diagnosis of Allergen-specific IgE by in-vitro ("RAST") Testing
Advantages
Disadvantages (compared to skin testing)

Safe

No experience / expertise / reagents required by the medical practitioner for the performance of the test

Suitable for patients with

Skin disease
Dermatographism
Recent antihistamine Rx
Infancy / cord blood sampling
Severe anaphylaxis in whom there is a concern that skin testing may provoke an anaphylactic reaction (foods, latex, stinging insects, antibiotics)

Expensive

Less sensitive than Skin Tests

RAST tests to "mixes" of allergen may give falsely negative results

Delay before results are available

Information is more abstract -i.e. less immediately relevant to the patient

Stability of allergen a problem for some allergens (particularly food allergens)
Table 2:
Causes of "False Negative" RAST Tests
Immediately following anaphylaxis (e.g. to an antibiotic causing the serum IgE to drop transiently)
Waning of allergen-specific IgE with time following exposure (e.g. many years following a bee sting)
Unstable allergens in the RAST substrates (especially food allergens)
RAST tests to allergen "mixes" may be less sensitive than RAST tests to single allergens (e.g. "Food Mix" vs "peanut") and skin tests
Figure 2: The allergen-specific IgE antibody test ("RAST" test) - Principle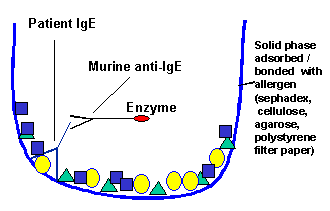 Table 3:
Causes of Raised IgE
Common
Atopic Disease - esp. Atopic Dermatitis
Asthma
Parasitic Infestation
Uncommon
Allergic Bronchopulmonary Aspergillosis
Hodgkin's Lymphoma
Systemic Vasculitis (esp Churg-Strauss Syndrome)
Primary Immunodeficiencies (esp Hyper-IgE syndrome, Wiskott-Aldrich syndrome)
IgE Myeloma
Table 4:
Causes of Eosinophilia
Common
Allergic diseases (atopic dermatitis)
Asthma
Adverse drug reactions
Parasitic infestation (e.g. toxocara, strongyloides, filariasis)
Uncommon
Neoplasia (e.g. Hodgkin's Lymphoma)
Chronic inflammatory skin diseases (e.g. pemphigoid)
Systemic vasculitis (esp. Churg-Strauss syndrome)
Primary hypereosinophilic syndromes (including pulmonary infiltrates with eosinophilia [Loeffler's syndrome], eosinophilic gastroenteritis, eosinophilic leukaemia
Practice Points
History + Skin-prick testing remain the "gold standard" for identifying clinically relevant allergens.· In vitro tests offer advantages in some clinical situations (Table 1).
A positive RAST in the absence of a consistent history indicates sensitisation, not allergy.
A negative RAST does not exclude significant allergy (Table 2).
Mast cell tryptase is a useful marker of anaphylaxis in situations where the diagnosis is unclear, if the sample is taken within 4 hours of onset of symptoms.
Elevations of IgE and eosinophilia are non-specific. In the absence of allergic disease, other causes should be sought (Tables 3 and 4).
Clinically significant allergy can occur without an elevated IgE or eosinophilia.
References and Further Reading
Sutton BJ and Gould HJ. The human IgE network. Nature 1993;366:421-8
Homburger HA. Methods in laboratory immunology. In Allergy: Principles and Practice, edited by Middleton E. Jr, 1998 Edition. Mosby-Year Book Inc. Missouri
Schwartz LB, et al. Tryptase as an indicator of mast cell activation in systemic anaphylaxis and mastocytosis. N Engl J Med 1987;316:1622-6)
© ASCIA 2010
The Australasian Society of Clinical Immunology and Allergy (ASCIA) is the peak professional body of Clinical Immunologists and Allergists in Australia and New Zealand.
Website: www.allergy.org.au
Email: This email address is being protected from spambots. You need JavaScript enabled to view it.
Postal address: PO Box 450 Balgowlah, NSW Australia 2093
Disclaimer
ASCIA Education Resources (AER) information is reviewed by ASCIA members and represents the available published literature at the time of review. Information contained in this document is not intended to replace professional medical advice and any questions regarding a medical diagnosis or treatment should be directed to a medical practitioner.
Content updated January 2010