Skin Prick Testing for the Diagnosis of Allergic Disease
ASCIA Manual for Practitioners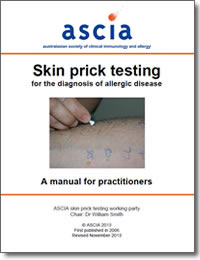 Please note that this document is currently under review, and will soon be replaced by the ASCIA Skin Prick Testing Guide for health professionals.
Information on suppliers and access is available at https://www.allergy.org.au/members/ascia-member-access-to-spt-reagents
The optimal management of allergic disease requires accurate diagnosis of type 1 (IgE-mediated) allergies, which are a result of the production of specific IgE to allergens by allergic individuals. Conditions in which IgE mediated allergies may play a central role include allergic rhinitis, asthma, atopic dermatitis, anaphylaxis, acute urticaria and angioedema, food allergy, insect venom allergy, latex allergy and some drug allergies.
Skin prick testing (SPT) is recommended as the primary method for the diagnosis of IgE mediated allergies in most allergic diseases. It has advantages of relative sensitivity and specificity, rapid results, flexibility, low cost, good tolerability, and clear demonstration to patients of their allergies.
Allergy testing by intradermal injection is not recommended for routine use for aeroallergens and foods, but may have a place in venom and drug allergy diagnosis. It carries a greater risk of anaphylaxis and should be limited to those with specialist training.
Serum tests for allergen specific IgE (also referred to as RAST tests) are also useful in certain situations.
Skin prick testing is a procedure which carries relatively low risk, but systemic allergic reactions have been reported. Since the test is percutaneous, infection control measures are essential. Patients must be fully and appropriately informed of the risks and benefits. Individual patient contraindications and precautions must be observed.
Skin prick testing must be performed by trained and experienced medical staff, in centres with appropriate facilities to treat systemic allergic reactions (anaphylaxis). The responsible medical practitioner should observe the reaction and interpret test results in the light of the patient's history and signs. Test results must be recorded and communicated in a clear and standardized form that can be understood by other practitioners. Counseling and information should be provided to the patient on an individual basis, based on the outcome of the test and characteristics of the patient and the local environment.
Detailed information is available in ASCIA skin prick testing for the diagnosis of allergic disease - a manual for practitioners:

ASCIA Skin prick testing for the diagnosis of allergic disease825.5 KB
Content updated February 2020