National Allergy Strategy Pre-budget Submission 2015-2016

National Allergy Strategy pre-budget submission March 2015510.47 KB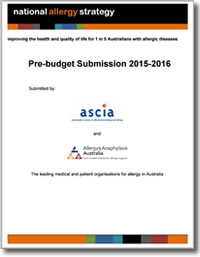 Allergic diseases affect 1 in 5 Australians and are amongst the fastest growing medical conditions.
To address this problem, the Australasian Society of Clinical Immunology (ASCIA) and Allergy & Anaphylaxis Australia (A&AA), as the leading medical and patient organisations for allergy in Australia, are developing a National Allergy Strategy in collaboration with other key stakeholder organisations.
The National Allergy Strategy aims to address public health issues relating to the rapid and continuing rise of allergy in Australia and improve the health and quality of life of people with allergic diseases, their carers and the community.
The development of the National Allergy Strategy is overseen by a Steering Committee comprising ASCIA and A&AA members from across Australia.
The National Allergy Strategy has now been published at www.nationalallergystrategy.org.au
Content updated August 2015