Recent tick allergy publication supports ASCIA recommendations
7 May 2019
: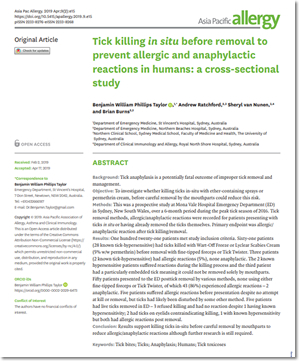 The ASCIA article on tick allergy has been updated to include reference to a recently published study, and is available at www.allergy.org.au/patients/insect-allergy-bites-and-stings/tick-allergy
The study is titled "Tick killing in situ before removal to prevent allergic and anaphylactic reactions in humans: a cross-sectional study". It is available open access from the Asia Pacific Allergy journal https://apallergy.org/DOIx.php?id=10.5415/apallergy.2019.9.e15
Results from this published study support the use of ether containing sprays to kill ticks. These sprays are approved by the TGA for use on human skin in Australia. The study results support the following ASCIA recommendations.
To prevent allergic reactions to ticks do NOT forcibly remove the tick. Disturbing the tick may cause the tick to inject more allergen-containing saliva. The options are to:
Leave tick in place and seek medical assistance; OR
Freeze tick (using a product that rapidly freezes and kills the tick) and allow to drop off.
Another recent publication reports on a second tick species that has been associated with mammalian meat allergy in Australia. https://synapse.koreamed.org/DOIx.php?id=10.5415/apallergy.2018.8.e31
Content created May 2019