AusPollen App questionnaire
October 20, 2017: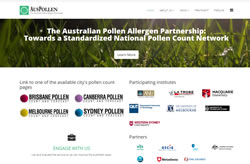 Auspollen invites people with hay fever (allergic rhinitis) and/or asthma that is made worse by allergens in the air, to evaluate free local AusPollen Apps.
The Apps provide daily levels of pollen in the air and can be accessed on the AusPollen website www.pollenforecast.com.au or via iTunes, Google Play Apps, twitter and facebook.
To help evaluate usefulness of the AusPollen Apps and improve this service, please complete a short questionnaire before and after the pollen season. The questionnaire opens on October 20, 2017 and the link is http://survey.qut.edu.au/f/190401/43d7/)
This research will help us know where to locate future pollen count sites and determine if there are local triggers that make hay fever and asthma worse.
If you would like to know more about the AusPollen project please contact Associate Professor Janet Davies, Queensland University of Technology, by emailing This email address is being protected from spambots. You need JavaScript enabled to view it.
Thank you in advance for your participation.
Associate Professor Janet Davies, on behalf of the AusPollen Partnership Project team.