ASCIA releases guidelines for infant feeding and allergy prevention
May 18, 2016
:
ASCIA Guidelines for infant feeding and allergy prevention and information on how to introduce solid foods to infants have been released on the ASCIA website: www.allergy.org.au/patients/allergy-prevention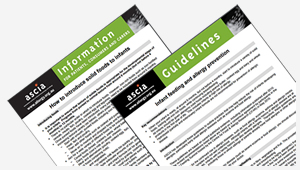 These guidelines provide parents and health professionals with advice and recommendations relevant to allergy prevention, breastfeeding and introduction of solid foods. These documents combine the information from the previous ASCIA Infant Feeding Advice and ASCIA Guidelines for Allergy Prevention.
The Guidelines also include 3 revised recommendations, based on a consensus agreement by participants in the Centre for Food & Allergy Research (CFAR) Infant Feeding Guidelines Summit, hosted by Murdoch Children's Research Institute (MCRI) on Friday 13th May 2016. This Summit resulted in consensus, as reported this week in Health Matters:
www.abc.net.au/radionational/programs/healthreport/new-recommendations-for-infant-feeding/7417846
ASCIA Food Allergy e-training, ASCIA Food Allergy Clinical Updates and other resources have been updated to include the 3 revised recommendations.
It is important to note that food service providers (such as childcare centres) should refer to the ASCIA guidelines for prevention of anaphylaxis in schools, preschools and childcare services: www.allergy.org.au/schools-childcare