ASCIA patient education resources reborn
22 May 2019
: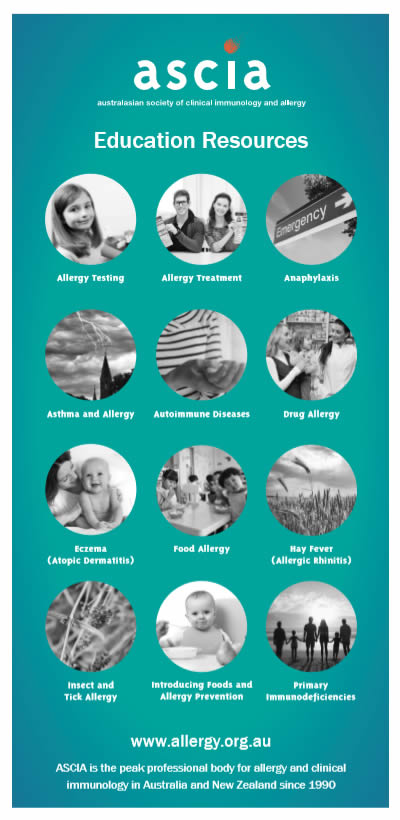 The team at ASCIA is pleased to announce that stage three of the ASCIA Education Project is now complete. More than sixty ASCIA website articles for patients, consumers and carers underwent a comprehensive review over the past few months. The review focused on making the information easier to read and understand across more than 12 topic areas. All of the documents are now available in mobile device friendly html versions and printable PDFs on ASCIA's trusted and extremely popular website www.allergy.org.au/patients/information
With many Australians and New Zealanders having English as a second language, it was important to reduce the reading age of the existing documents by following a proven formula. The comprehensive review involved making sentences twenty words or less, avoiding words with more than two syllables (where possible), and clearly explaining medical terms.
With stages one, two and three of the ASCIA Education Project now complete, we are ready to move on to stage four.
Stage 1: In August 2018 a significant redesign of the ASCIA website was completed and launched. The ASCIA website is a trusted and extremely popular source of information about allergy and other immune diseases. Access to more than 130 ASCIA educational resources was improved by redesigning the website to be more user and mobile device friendly.
Stage 2: In February 2019 new ASCIA Fast Facts on 12 topics were completed and added to the ASCIA website. ASCIA Fast Facts provide bite sized, easy to read and trustworthy information on allergy and other immune diseases for patients, carers and the community. ASCIA Fast Facts have been adapted from existing evidence based ASCIA information and have been developed as part of the ASCIA Education Project.
Stage 3: In May 2019 the updating of more than 64 ASCIA patient articles was completed. A comprehensive review of the documents was undertaken in order to make the documents easier to read and understand.
Stage 4: In May 2019 work has commenced on updating more than 50 ASCIA health professional resources, including 10 e-training courses.
ASCIA educational resources for health professionals, patients, consumers and carers include: