ASCIA Highlights 2019
3 January 2020:
As we enter a new decade in 2020, we take this opportunity to wish you a happy new year and reflect on the highlights of 2019.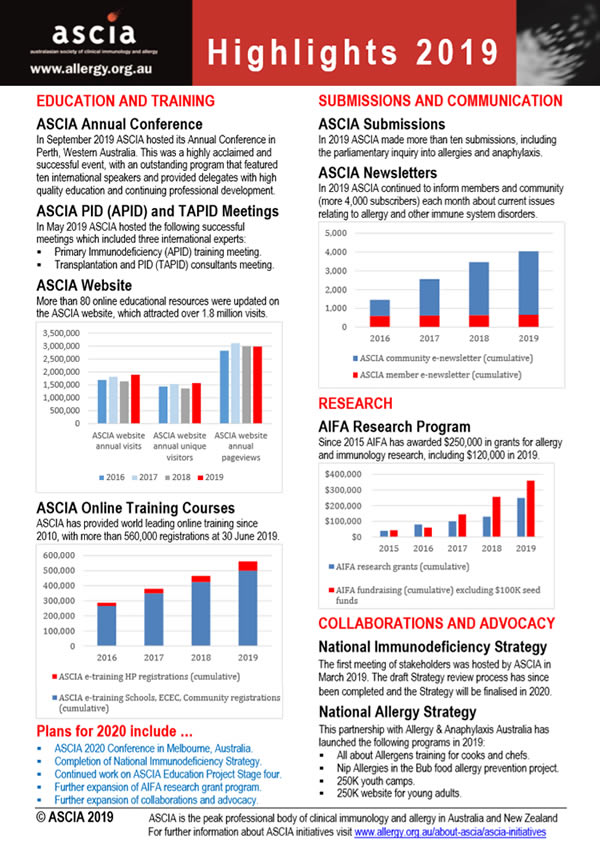 There were several highlights in 2019 for ASCIA, including:
Highly acclaimed and successful meetings - ASCIA Annual Conference, ASCIA Primary Immunodeficiency (APID) training meeting and the TAPID (Transplantation and PID) meeting.
Updating of more than 80 online educational resources on the ASCIA website, which attracted over 1.8 million visits from 1 July 2018 to 30 June 2019.
Continuing increase in ASCIA e-training course registrations – over 100,000 registrations from 1 July 2018 to 30 June 2019.
More than ten submissions, including the parliamentary inquiry into allergies and anaphylaxis.
Awarding of $120,000 in AIFA grants for allergy and immunology research.
The first meeting of National Immunodeficiency Strategy stakeholders.
National launch of National Allergy Strategy Nip Allergies in the Bub food allergy prevention project.
For a summary of the highlights and a preview of plans for 2020 go to www.allergy.org.au/about-ascia/highlights
From an operational perspective, a major highlight of 2019 was the move to a new office suite which has enabled ASCIA to sustain its operations. In 2020 we will develop a new ASCIA sustainability plan, to support ASCIA training programs and further reduce ASCIA's impact on the environment. In the meantime you can read about ASCIA's sustainability initiatives at www.allergy.org.au/about-ascia/ascia-initiatives#sustain
In 2019 there was also some extremely sad news, when Dr Velencia Soutter passed away In September 2019. Dr Soutter was a long term ASCIA member who was passionate about her family and work in paediatric allergy, and her loss she will be felt far and wide.