ASCIA Highlights 2017 and Priorities for 2018
December 21, 2017
: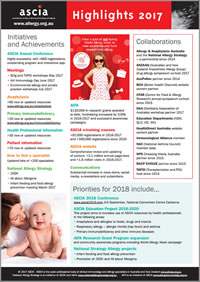 As we approach the holiday season we would like to take this opportunity to thank ASCIA members, staff and supporters. Your significant and generous contributions over the past year are greatly appreciated. ASCIA has achieved so much in 2017, as summarised in the "ASCIA Highlights 2017" document on the ASCIA website www.allergy.org.au/about-ascia/highlights
In 2018 we are looking forward to the ASCIA Conference in Canberra www.ascia2018.com and the launch of the new ASCIA Education Project 2018-2020. We also aim to expand AIFA research grants and awareness programs, and are proud to be involved in the continued implementation of the National Allergy Strategy.
For further details about ASCIA achievements go to www.allergy.org.au/about-ascia/ascia-initiatives and for National Allergy Strategy projects go to www.nationalallergystrategy.org.au
Best wishes to you all for Christmas and the New Year.
Dr William Smith, ASCIA President Jill Smith, ASCIA CEO
Content updated 21 December 2017