ASCIA 2016 Conference Report
Sep 21, 2016
:
The ASCIA 2016 conference provided more than 600 delegates with a unique opportunity to hear from 6 international experts and more than 30 local experts on a wide range of areas in allergy and clinical immunology. The conference also included 79 posters, 48 poster presentations and 16 clinical grand rounds presentations.
Congratulations and thank you to Dr Susan Perel (Chair), A/Professor Jane Peake and Dr David Gillis for organising an outstanding program for the ASCIA 2016 Conference. Thank you also to Kathy Beck and Anna Sullivan for coordinating an excellent Nurses' and Dietitians' Update and Professor Katie Allen for another successful CFAR Symposium.
Thank you also to sponsors and exhibitors, who continue to provide ongoing support for ASCIA Annual Conferences and other ASCIA educational initiatives.
For more information go to www.allergy.org.au/conferences/ascia-annual-conference#s2016
We look forward to your participation in the 28th ASCIA Conference next September in Auckland, New Zealand.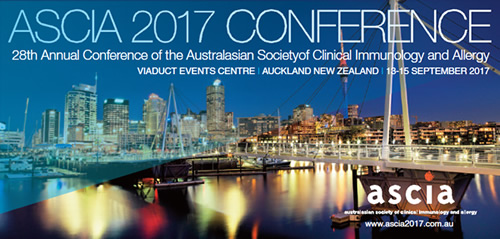 Content Updated 21 September 2016