ASCIA and Choosing Wisely Australia
April 30, 2015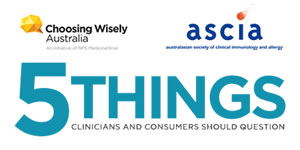 Choosing Wisely Australia® is a new, health profession led initiative facilitated by National Prescribing Service (PBS) that aims to stimulate informed conversations about healthcare services, with the ultimate goal to ensure delivery of high quality healthcare for Australians by reducing inappropriate care.
In a first for Australia, medical societies and colleges have united to take the lead on identifying tests, treatments and practices that are of proven low value, are still in the research phase or carry an unnecessary risk.
The Australasian Society and Clinical Immunology and Allergy (ASCIA) is one of the first medical societies and colleges that released recommendations at the launch of Choosing Wisely Australia on 29 April 2015.
The ASCIA list of 5 things that clinicians and consumers should question is available at www.choosingwisely.org.au/recommendations/ascia
"My colleagues in the Australasian Society of Clinical Immunology and Allergy (ASCIA) have been concerned for some time that in the area of allergy and immunology there are tests and treatments where there is little or no evidence to support them. We believe that it is the right of every consumer to have the benefits of the highest standard of care and to be fully informed of the scientific evidence behind the testing or treatments they undergo.
We are very excited about Choosing Wisely Australia because it is one of the first initiatives of its kind to have strong consumer engagement. It gives us the ability to inform consumers. Educated consumers who make informed choices make our job a great deal easier," said Dr David Gillis, of the Australasian Society of Clinical Immunology and Allergy (ASCIA).
Choosing Wisely Australia will continue as a new voice in Australian healthcare as other medical colleges and societies come on board and release more lists. Clear, evidence-based and straightforward materials will continue to be developed for both consumers and health professionals to support better decisions.
Choosing Wisely Australia is modelled after the successful Choosing Wisely campaign in the United States, launched in 2012 by the American Board of Internal Medicine's ABIM Foundation.
Further information is available at www.choosingwisely.org.au

ASCIA and Choosing Wisely Australia375.33 KB
See more at Reports Overview